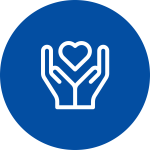 Apart from providing sleep test and diagnosis, we also ensure you are taken care of within the entire Sleep Health Ecosystem.  As we are working very closely with various specialists, GPs and Sleep Coaches, we are able to suggest to you the appropriate healthcare giver for your treatment options, within our Digital Platform.
Patient registering for the SleepImage Test online
Arrangement of test kit collection / delivery
Patient perform sleep test in the comfort of their own home
Sleep test result uploaded into the SleepImage Cloud for processing
SleepImage result reviewed by partner specialist
Patient referred to appropriate specialist (physical or online consultation)
Treatment for patient as recommended by specialist
Future monitoring with SleepImage to track treatment progress at an affordable price
*Note: Test kits can be collected at BMEC Sleep Care office or Dr Kenneth Oo's clinic at Mount Elizabeth Medical Centre.  If delivery is preferred, delivery fee will be incurred. Our staff will contact you for the arrangement of sleep test kit collection/delivery.